For over 50 years, Our Lady of Good Counsel Retreat House offers a peaceful atmosphere of prayer and recollection, situated on a spacious acreage near Waverly, Nebraska. The facility includes fifty single rooms, each with a private bath. Each retreat includes meditations by the retreat master, and opportunities for silence, prayer, adoration and the Sacraments. Retreats typically begin on Friday evening at 8:00 PM with a Rosary followed by Mass, and end with Mass on Sunday followed by lunch.
Take a tour, see the full retreat schedule, and register online: www.goodcounselretreat.com.
You can also email goodcounsel@cdolinc.net or call 402-786-2705.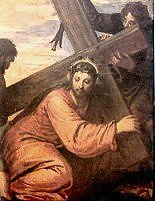 Plan Ahead for Lent
Lent is an annual season of repentance and conversion (especially through the Sacrament of Penance/Confession) and a time meditate on the Lord's Passion (through the Stations of the Cross). We work to fight against sin and temptation (through our sacrifices, abstinence and fasting) and to grow in virtue (through acts of charity and almsgiving).
You are invited to consider what you will do for this Lent. Do not enter this season haphazardly, but rather plan ahead some resolutions and penances that are concrete and practical, increasing the likelihood you will keep them. For example: weekday Mass attendance, daily family rosary, daily Bible or spiritual reading, Eucharistic Holy Hours; giving up television, Facebook, alcohol, junk food and snacks; doing positive things like eating simpler meals, giving to the poor or the Church, being more cheerful and helpful, offering discomforts and inconveniences with smiling acceptance.
All are invited to a Solemn Vespers (sung Evening Prayer) and Benediction, each Sunday of Lent, 5:00 PM. Experience the prayer of the Church as the Liturgy of the Hours is chanted each Sunday evening at Our Lady of Good Counsel Retreat House, beginning Feb. 22.
Weekend retreat Feb. 13-15 with Fr. Thomlison, Angels & Demons: Spiritual Warfare & Discernment
Men and women desiring to get a jump start before Lent are invited to this weekend retreat February 13-15 with Fr. Steve Thomlison, entitled Angels & Demons: Spiritual Warfare & Discernment. The retreat will be an opportunity to examine the role of angels in our daily life, and the ways we guard against temptations from fallen angels. Use principles of discernment to see how good angels will prompt us towards doing good, and how Satan tries to tempt and deceive us.
A perfect opportunity before Lent, which Fr. Thomlison likens to a time of spring training or spiritual boot camp, a chance to trim away the fat and circumcise the heart so we are ready to run the race, or in this case, to fight the battle.
Fr. Thomlison is pastor at St. Stephen, Exeter and St. Wenceslaus, Milligan, and he is Chaplain for both the Nebraska Army National Guard and the Nebraska State Patrol. See him on Facebook at facebook.com/fr.thomlison
This retreat is open to men and women of all ages. Register Online.
Feb. 18, Ash Wednesday Day of Recollection for Women, Father Thomas McGuire, Does God Notice Me?
The Lincoln Diocesan Council of Catholic Women (LDCCW) is hosting an Ash Wednesday Day of Recollection for Women on February 18 at Good Counsel Retreat House. The day will be given by Father Thomas McGuire on the topic, "Does God Notice Me?" Father McGuire is Assistant Moderator of the LDCCW and is currently at St. Joseph Church in Beatrice.
Registration begins at 9:30 AM, the first activity is 10:00 AM, the Day concludes at 3:00 PM and will includes Conferences, Stations, Confessions, Mass and Adoration. Drinks are provided; bring your own Sack Lunch.
There is no advance registration for the Day of Recollection, cost is $10 at the door. Note: there will be a parallel Retreat Day held at the same time at Hastings St. Michael Church.
Weekend retreat for men and women Feb. 27-Mar. 1 with Fr. Mark Cyza, Friends of the Cross
Fr. Mark Cyza, pastor at St. Benedict parish in Nebraska City and Principal at Lourdes School, will give a weekend Lenten retreat February 28-March 2.
The theme, Friends of the Cross is based on the theology (and book by the same name) of St. Louis de Montfort and his Total Consecration to Jesus through Mary. Following his retreats from past years United with the Hearts of Jesus and Mary and Consoling the Heart of Jesus, this retreat will examine how we can consecrate everything, even the suffering in our life, to Jesus through Mary.
On the retreat, Fr. Cyza will also examine the redemptive meaning of suffering, and how the cross really changes everything. The retreat will be a chance to ponder how suffering has been transformed. "It really shows the power of God," Fr. Cyza says, "to see the the cross transformed into something beautiful in the Resurrection."
Ordained in 2005, Fr. Cyza was an assistant pastor at the Cathedral of the Risen Christ in Lincoln and at St. Mary in Nebraska City. He has always been involved in teaching and schools, and also the Spanish Speaking Apostolate. He gives a retreat each year because he believes it is an important opportunity for all to experience. "The silence of the retreat enables us to hear the voice of Jesus as he speaks to our heart," Fr. Cyza says. "The retreat time helps facilitate that encounter with Christ."
This retreat is open to men and women of all ages. Register Online.
The Frassati Society of Lincoln Retreat Sat. Feb. 21 with Fr. Fr. Gabriel CFR at Marycrest Motherhouse, Waverly
A Frassati Lenten Retreat will be held Saturday February 21, 9:00 AM-3:00 PM at the Marian Sisters Marycrest Motherhouse featuring Fr. Gabriel, CFR from the Franciscan Friars of the Renewal.
The Frassati Society of Lincoln, a group for Young Adults in the Diocese of Lincoln, engages in social, spiritual and service activities, including monthly 'Third Thursday Adoration' at John XXIII Center, 3700 Sheridan Blvd., Lincoln.
Following the spirituality of Blessed Pier Giorgio Frassati, the society seeks to provide young adults in Lincoln the chance to encounter Jesus Christ through the Catholic Church. We provide opportunities for intellectual and spiritual formation, service to our community, and social events. Ages 22-40 welcome. To join their email list, or register for the retreat day, visit www.frassatilincoln.com or email frassati.lincoln@gmail.com.
Regnum Christi Convention, Feb. 20-22, Kindle The Fire
Regnum Christi, the Kingdom of Christ, is an apostolic movement of men and women who love Jesus Christ, His Church and souls. Members commit to live out their baptismal call to holiness and to engage in apostolic action, to establish the Kingdom of Christ in every person and in society.
The Kindle the Fire Heartland Regnum Christi Convention will help all to recall how Christ has called each of us, it is He who first lit the fire to love Him and serve Him in our hearts. It is His love that impels us to grow in holiness and commit our lives to extending the Kingdom of Christ by our personal witness and our commitment to living apostolate and to strive to bring the transforming message of the Gospel to every corner of society and culture.
The Convention includes speakers, Holy Hours, time for prayer and social, and Mass with Archbishop George Lucas. Although of particular interest to members, all men and women are welcome who want to learn more about Regnum Christi. Download the Brochure and Registration Form (PDF).
Plan Ahead for March
Men are invited to continue their Lent with a Man-to-Man weekend retreat March 13-15 with Fr. Troy Schweiger, pastor of St. Patrick Church, Lincoln. The topic "A Man after God's own Heart" will be of special interest to those who have participated in "That Man is You."
Conclude your Lent with a Palm Sunday weekend retreat for men and women given by Fr. Gary Coulter, Director of Our Lady of Good Counsel Retreat House, on the topic "Discipleship in the Gospel of Mark."