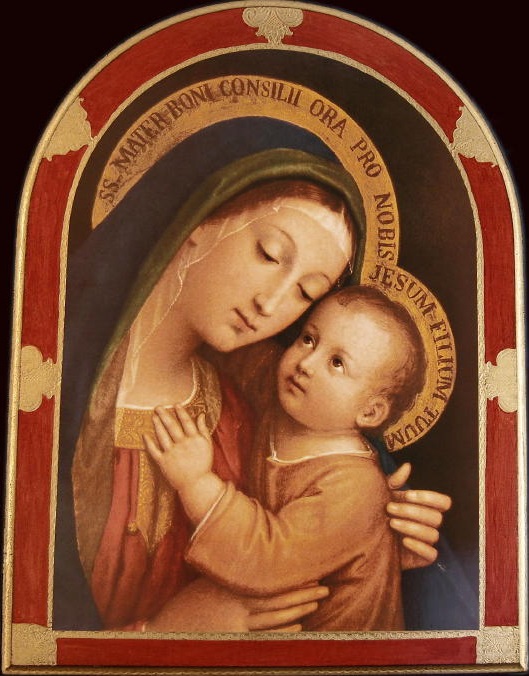 April 26, Feast Day of Our Lady of Good Counsel

Devotion to Our Lady of Good Counsel dates to April 25, 1467 when a miraculous picture of Our Lady, now known as "Madonna del Buon Consiglio", first appeared at Genazzano, Italy a town about twenty-five miles southeast of Rome, in the old church of Santa Maria. The venerated icon is on a thin sheet of wall-plaster little thicker than paper, and was observed to hang suspended in the air without the slightest apparent support. At once devotion to Our Lady in Santa Maria sprang up, pilgrimages began, and miracles in ever-increasing numbers were recorded at the shrine, as they still continue to be.

Given approval by numerous Popes, the church of Santa Maria in Genazzano was elevated to the rank of minor basilica and the invocation "Mater Boni Consillii" was inserted into the Litany of Loreto. The feast day, for which an Office and Mass were composed with proper hymns and lessons, is held April 26, the day after the anniversary of the apparition, so as not to conflict with the feast of St. Mark the Evangelist. Pope Leo XIII sanctioned the use of the White Scapular of Our Lady of Good Counsel for the faithful, and in the United States there are many churches and institutions in honour of Our Lady of Good Counsel. She is the patron of our Retreat House and also of the Lincoln Diocesan Council of Catholic Women (LDCCW).
Apr. 29-May 1
Men & Women Register Now

Retreat with Sr. Ann Shields, Receiving the Unshakable Kingdom (Heb. 12:25-29)

Sr. Ann Shields of Renewal Ministries, is an internationally noted conference and retreat speaker and author of numerous books on Catholic spirituality including recent booklets: "The Mercy of God and the Joy Repentance Brings", "Captured By Mercy", and "Hope in the Midst of Suffering". She currently hosts the popular daily radio program Food for the Journey in cooperation with www.renewalministries.net.

Sister prays that this retreat for men and women Apr. 29-May 1 will help people deepen their encounter with Jesus, be set free from sin, and through scripture have their hearts set ablaze. "Since we are receiving a kingdom that cannot be shaken, let us be thankful, and so worship God acceptably with reverence and awe, for our 'God is a consuming fire.'" (Hebrews 12:28-29) This is the great joy of being a Christian - you have a Kingdom which has already been given to you and your life in Christ is unshakable. Therefore we should worship God with reverence and awe, remembering that our God is a consuming fire.

As Sr. Ann Shields says, "the faith needs to go from the head to the heart: it needs to become personal, so that it speaks to me and calls me to change." More than just reciting the creed, faith should change and transform us into disciples of Christ; faith is a grace and gift that we have to open up and receive its power. She says that retreats are important because we need that time to pray, to be before the Lord, interact with Him, and digest His word: "If you don't digest, you end up with indigestion."

Click here to listen to a 15-minute excerpt of Sr. Ann Shields speaking on the Word of God as the sword of the Spirit.
May 6-7
2-Day for Women Register Now

May 6-7 Women's Retreat with Teresa Monaghen, Mary: Mother of Mercy

Join us for a Women's Retreat in this Jubilee Year of Mercy led by Teresa Monaghen, a consecrated woman with the Apostolic Oblates and Pro Sanctity Movement. She has been a happily, perpetually, joyfully vowed member since 1989. Teresa will share with us meaningful and simple ways of mercy, as the pathway to Heaven in daily life. The topic includes lessons of love and mercy from Our Lady, Blessed (soon to be Saint!) Mother Teresa of Calcutta, St. John Paul II, St. Faustina and other Saints of Mercy, who will show us the way to mercy, that is, Heaven on Earth!

This retreat is open to all women, young and old, married and single. It is in honor our Mother Mary, Queen of Mercy during this holy month dedicated to our Lady, and it would be a great Mother's Day gift for the Mom, Mother or Grandmother in your life! There will be times of silence and sharing, opportunities for prayer and preparing in order to live ever more fully this Holy Year of Mercy.

This 2-Day retreat runs from 8:00pm Friday night until 6:00pm Saturday evening. The suggested donation is $100 but no one is refused for inability to pay.
Please Welcome the Knights of the Holy Eucharist

The Knights of the Holy Eucharist are a lay, Franciscan group, one of the two men's orders founded by Mother Angelica. Their mission is to promote reverence for the Holy Eucharist by living a life that is Eucharistic, Marian, Ecclesial (i.e. faithful to the pope and local bishop), and Franciscan - practiced through community life, prayer, work, and evangelization. You can also watch a 7 minute video: www.knightsoftheholyeucharist.com

After discussions with the Diocese of Lincoln, they have been invited to begin a probationary discernment period here. At the moment an initial group of four are staying at the Retreat House, with the goal to look for a suitable housing residence in our diocese. The Knights will be guided and encouraged by the Diocese of Lincoln during this time while they, and Bishop Conley, will discern if it is advantageous for them to establish a more permanent presence in our Diocese.

Like Mother Angelica, the Knights are trusting in divine providence to help find them a home, and they depend on the support of the faithful for the moving and living expenses. Read more about the proposed move and how you can support them. Email goodcounsel@cdolinc.net or call 402-786-2705 to get in touch with them.
8-Day Ignatian Retreat for Laity with Fr. Christopher Barak and Fr. Gary Coulter
An Ignatian Retreat for laity and religious will be held June 28-July 6, 2016 (the evening of Tues. June 28th to the evening of Wed. July 6th).
The directed Ignatian retreat involves (usually four) extended prayer periods daily, with passages from Scripture or specific spiritual themes, chosen or suggested by the director giving the Spiritual Exercises, based on his knowledge of the retreatant's progress during the retreat. Giving the Exercises will be Father Christopher Barak, Fr. Gary Coulter, and if necessary, other priests of the Diocese of Lincoln. Fr. Barak is pastor of St Vincent de Paul Church in Seward, and Fr. Gary Coulter is director of Our Lady of Good Counsel Retreat House.
The retreat is based on the Spiritual Exercise of St. Ignatius (suggested: the Fr. Puhl, S.J., translation is preferred). You may wish to read the first 21 numbers of the Spiritual Exercises; you also might like to read Meditation and Contemplation by Father Timothy Gallagher, OMV. The suggested donation is $80 a day, if you cannot afford this, please do not let it keep you from making the retreat. Your pastor or a group in your parish may be willing to help you.
This retreat is open to men and women, seminarians and religious of all ages. Please email goodcounsel@cdolinc.net or call 402-786-2705 to request an application form, and submitted you completed application soon as space is limited.
Summer and Priest Retreats
An important part of the mission of Our Lady of Good Counsel Retreat House is providing Retreats for Priests. Please pray for your priests as they go on retreat this summer: May 30-June 2, June 5-9, and July 31-August 4. Priests need a time for refreshment and renewal on retreat just as much as laity, if not more so.
There will also be an 8-Day Ignatian Retreat for priests July 18-26. It would be a wonderful gift and a way to say thanks: consider offering to help pay part or all of the cost for your favorite priest to attend this retreat.
Various other summer activies include retreats for newly ordained priests and new pastors, seminarian retreats, and Engaged Encouner weekends for those preparing for marriage. Please note that there are no regular weekend retreats over the summer. But you can still Purchase Recordings of Retreats - new recordings are available.