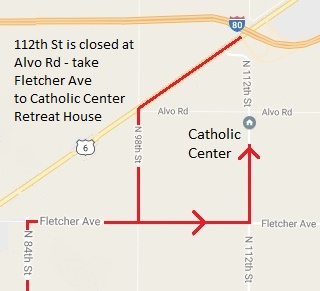 Detour: Bridges Closed
Due to erosion and safety issues, the county has closed two bridges on both 112th Street and Alvo Road, just north of the Retreat House. Therefore the Retreat House has to be approached from the south. It is suggest to take Fletcher Ave to 112th St, as shown on the map. The 112th St bridge should be open by the end of September, weather cooperating. Please be sure to tell others who might be coming to the Marian Mass or a Retreat.
Sept. 2-4 Vietnamese Retreat + Labor Day
Labor Day weekend there will be a Retreat in Vietnamese with Fr. Luong Uong, S.Ss.S. Men and women of all ages are in invited. See the full list of retreats online.
The United States Conference of Catholic Bishops, in a statement for Labor Day 2016, discusses the crises in work and family life, particularly in rural and middle America and outlines how the solution to these crises is found in Christ and in the solidarity shown by members of the Church.
"Let us begin by going to the Lord, laying our burdens at the foot of His cross and giving over our hearts that we might find rest. In our call to rebuild community on a firmer foundation, we must rely upon the sister principles of solidarity and subsidiarity... The first response, then, is local, to look to our neighbors in need, our brothers and sisters who may be without sufficient work for their families, and offer them help."
Read the USCCB Labor Day statement.
Sept. 7, Marian Mass and Rosary Procession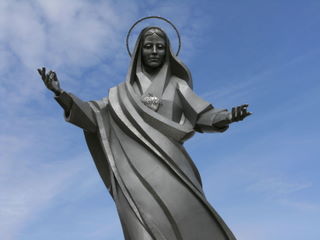 The twenty-ninth annual Marian Mass, Rosary and Candlelight procession will be held Wednesday, September 7th, at 7:00 p.m., on the grounds of the Waverly Retreat Center. Bishop Conley will be the main celebrant and homilist.
This evening of spiritual inspiration and devotion is spent outdoors, and includes a candlelight procession and international Rosary. It will be a great opportunity to pray to Our Lady for peace throughout the world.
The Fatima Play will be performed at 6:00 p.m. this year. Please pray for favorable weather, but in case or rain, the Mass will be held at the Cathedral of the Risen Christ. For more information, contact St. Teresa Parish at 402-477-3979.
Sept. 28-11
Men & Women Register Now

Sept. 8-11, Opus Sanctorum Angelorum 4-Day retreat for Men and Women on "The Work of the Holy Angels"

All men and women who want to grow spiritually through silence, prayer, conferences and spiritual guidance, and learn about the holy angels and their ministry are welcome to the Opus Sanctorum Angelorum retreat Sept. 8-11.

Opus Sanctorum Angelorum, the Work of the Holy Angels, is an international movement within the Catholic Church, faithful to the Magisterium. Its mission is to spread devotion to and conscious collaboration with the holy angels. The Catechism of the Catholic Church teaches, "From its beginning until death, human life is surrounded by their watchful care and intercession. Beside each believer stands an angel as protector and shepherd leading him to life" (CCC 336).

The Work of the Holy Angels also sponsors a "Crusade for Priests" program through which the faithful can spiritually adopt a bishop, priest or seminarian, to pray for them to have the strength to fulfill their ministry. For more information about Opus Sanctorum Angelorum, its mission, spirituality and the Crusade for Priests program, visit: www.opusangelorum.org.

This retreat on the Holy Angels will start with a 6 p.m. dinner Thursday and end with Mass Sunday, followed by lunch. As it is a four-day retreat, the suggested donation is $245. For more information or with questions, call Cheryl at 402-618-1733.
Sept. 30-Oct. 2
Men & Women Register Now

Weekend Retreat with Fr. Michael Morin, "To Pray as Jesus Taught", Sept. 30-Oct. 2, 2016

This weekend retreat for men and women on the topic of prayer has two themes which Fr. Morin will examine. First is the Our Father, the Lord's Prayer which Jesus himself taught us to pray. The Catechism says that the Lord's Prayer "is truly the summary of the whole gospel" and "the most perfect of prayers." (CCC 2774) Throughout the seven retreat conferences, Fr. Morin will look at the seven petitions given to us by the Lord Jesus.

Second, this retreat will look at Jesus' many sayings on prayer or about praying, especially focusing on the persistence, humility and trust needed in prayer. A primary source Fr. Morin will use is the Catechism of the Catholic Church - the fourth part of the Catechism has a very readable and beautiful teaching on prayer, and then a line-by-line commentary on the Lord's Prayer.

Fr Morin emphasizes the importance of making time for prayer, and time for a retreat, "I can't count how many times in the four gospels Jesus went off to pray by himself. This is such an important example and reminder that each of us needs to do the same."

A priest for 28 years, Fr. Michael Morin has spent most his priesthood working in education, including many years at Pius X High School, Lincoln and pastor of St. James, Cortland. Recently he was pastor of Sacred Heart, Lincoln and is currently pastor of St James Church in Mead and Chief Administrative Officer of Bishop Neumann Jr/Sr High School in Wahoo. Fr. Morin will also draw from his experience as Director of Apostleship of Prayer, Enthronement of the Sacred Heart, and Retrouvaille - a renewal program for married couples.
Oct. 7-9
Men & Women Register Now

Year of Mercy Retreat + Conference with Fr. Wade Menezes, CPM, Oct. 7-9, 2016

Attend a one-day Year of Mercy Conference (Sat. Oct. 8 at North American Martyrs, Lincoln) or three-day Retreat (Oct. 7-9 at Good Counsel Retreat House, Waverly) with Fr. Wade Menezes. Includes Mass, Chaplet, Exposition, Confession, Speakers and more.

Fr. Wade Menezes, CPM, is a member of the Fathers of Mercy, a missionary preaching Religious Congregation based in Auburn, KY. Ordained a priest during the Great Jubilee Year 2000, Fr. Wade has served as chaplain at the Shrine of the Most Blessed Sacrament of Our Lady of the Angels Monastery in Hanceville, AL and hosted several radio and television series for EWTN. Read more about Fr. Menezes at fathersofmercy.com.

The Year of Mercy Conference + Retreat is sponsored by the Diocese of Lincoln Apostolate of Divine Mercy, Our Lady of Good Counsel Retreat House, and Spirit Catholic Radio.

See www.lincolndiocese.org/mercy-conference for the full schedule, information, fees and registration.