Sept. 10, Marian Mass and Rosary Procession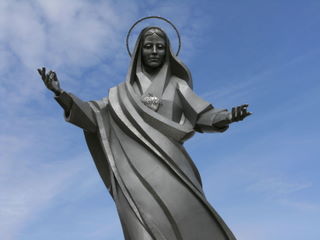 The twenty-seventh annual Marian Mass, Rosary and Candlelight procession will be held Wednesday, September 10th, at 7:00 p.m., on the grounds of the Waverly Marian Center. Bishop Conley will be the main celebrant and homilist.
Also, the Fatima play will be performed by S.T.A.G.E. prior to the Mass at 5:45 p.m. Hopefully, we will once again see many people at this year's celebration. It will be a great opportunity to pray to Our Lady for peace throughout the world.
Sept. 5-7, Men & Women's Weekend Retreat with Fr. Jerel Scholl
Father Jerel Scholl, pastor of Assumption parish in Dwight, will be leading a weekend retreat open to men and women September 5-7. The topic for the retreat is "Human Disorders: Fear and Anxiety"
Fr. Scholl recognizes that to objectively observe human disorders is to better understand what it is that tempts us to do wrong, which will therefore help us to gain control over disordered decisions. Hence, understanding root causes will make you less vulnerable to future episodes of erroneous decision making. Knowledge of what motivates our decisions can be a very powerful tool in helping a person to understand who they are and to thus possess peace in their life.
As the great late Blessed Archbishop Fulton Sheen once said, "A prune is a worried plum." Fear is a very powerful force that can be very controlling, if we allow it. Fear is related to love, particularly when something or someone we love is in dangerous circumstances. However, fear and anxiety can be very a strong force within us, that can potentially persuade a person to react in ways that are contrary to truth and love which we would otherwise not choose.
Since June of 2011, Fr. Scholl has been assigned to Assumption parish in Dwight, with the added responsibility of teaching at Aquinas High School. During this time he had been teaching Junior religion, which includes the topic of morality and material from the Catechism of the Catholic Church. Fr. Scholl says that in teaching this material "I have developed a bit of a hunger to share such vital and important information to others, which can enable people to understand what is really real."
Fr. Scholl says that he loves giving retreats, and frequently recommends going on retreat, because "To attach oneself to the truth of Christ is not easy, but with a little prodding that is done with love, we all have the capability to love the one who is love itself." Register Online.
Sept. 18-21, Opus Sanctorum Angelorum 4-Day retreat for Men and Women with Fr. Wolfgang Seitz, OCR.
Opus Sanctorum Angelorum, the Work of the Holy Angels, is an international movement within the Catholic Church faithful to the Magisterium. Its mission is to promote devotion to the holy angels and a covenant bond with them through a consecration which was approved by the Holy See in 2000, so that the holy angels may lead us more effectively to God. The Work is under the overall direction of the Order of Canons Regular of the Holy Cross.
Through retreats and parish missions, the priests of the Opus Sanctorum Angelorum lead the faithful to a more conscious collaboration with the holy angels in daily life for their own personal sanctification, the salvation of souls and the sanctification of priests. The Work also sponsors the Crusade for Priests program through which the faithful can spiritually adopt a bishop, priest or seminarian, in order to pray for them that may have the strength to fulfill their so important ministry.
Fr. Wolfgang Seitz, OCR will preach this year's retreat. Originally from Germany, he is a member of the Order of Canons Regular of the Holy Cross, and the Superior of the Community in Detroit and the national Director of Opus Angelorum. He studied at the seminary of the Order in Anapolis, Brazil. He was ordained a priest in 2002 and since has been giving retreats and conferences throughout the United States.
All men and women who want to grow spiritually through silence, prayer, conferences and spiritual guidance, and learn about the holy angels and their ministry towards us, are welcome to the Opus Sanctorum Angelorum retreat from Thursday evening, September 18 through Sunday, September 21 ending with lunch.
For more information about Opus Sanctorum Angelorum, its mission, spirituality and the Crusade for Priests program visit: www.opusangelorum.org. Register Online.
Oct. 3-5 Women's Retreat on the Kingdom of Christ
Regnum Christi, the Kingdom of Christ, is an apostolic movement of men and women who love Jesus Christ and, therefore, what He loves: His Church and souls. Members commit to live out their baptismal call to holiness and to engage in apostolic action, to establish the Kingdom of Christ in every person and in society.
Regnum Christi members seek to evangelize culture, building a civilization of justice and love, by forming apostles who can exercise greater Christian leadership and influence others. Members seek first to make Christ reign in their own lives and then in the lives of those around them, always in communion with bishops and local clergy.
The goal of the Regnum Christi retreat is to bring God's love to the retreatants, inspiring them to fall in love with Jesus Christ especially through prayer and the sacramental life, helping them come to know better the truths of the Catholic Faith and inviting them to participate actively in the evangelization of culture and society. Be awakened to discover your mission in life and in the Church.
The Regnum Christi retreat will be presented Fr Michael Mitchell, L.C., ordained to the Legionaries of Christ in 2011. He works in Chicago as the vocation director for their community as well as chaplain for Mission Youth: he spends much of his time guiding young adult Missionaries in working with the poorest of the poor in Haiti and Mexico.
This retreat is open to all women, including those who are not familiar with the Regnum Christi movement. Register Online.
Plan Ahead: upcoming retreats
Good Counsel Retreat House is excited to have many excellent retreats in the coming month. As always, see the full schedule of retreats, and register online, at our website: www.goodcounselretreat.com.
Sept. 26-28, Vietnamese Retreat for men and women led by Fr. Son T Dinh.
Oct. 10-12, weekend Retreat for men and women with Fr. Jeremy Hazuka: "Mary and the Laity's Call to Holiness"
Oct. 25, Men's Day of Reflection with Bishop James Conley: "Catholic Discipleship"
Oct. 31-Nov. 2, weekend Retreat for men and women with Fr. Thomas Dunavan: "Saints Yesterday and Today"
The Gift of Good Counsel (continued)
Among the seven gifts of the Holy Spirit, we find the gift of Good Counsel, which perfects the virtue of prudence by making us judge promptly and rightly what must be done, as by a sort of supernatural intuition, especially in difficult cases.
How do we cultivate this gift of Good Counsel? First of all, by a deep sense of our our weakness, and frequent recourse to the Holy Spirit so that He may teach us His ways. He will not fail to come to enlighten us in one way or another, for He stoops down to the humble; and He will not fail us, especially if we take care to ask His help in the morning for the entire day, at the beginning of the principal actions of the day, and particularly in difficult situations.
Further, we must accustom ourselves to listen to the voice of the Holy Spirit, to judge all things by His light without allowing ourselves to be influenced by human considerations, and to follow the least of His inspirations. Then, finding our soul open and docile, He will speak to the heart still more frequently.
(Source: The Spiritual Life: A Treatise of Ascetical and Mystical Theology, by Very Rev. Fr. Adolphe Tanquerey, #1324)
Join a Pilgrimage to the Holy Land, February 2015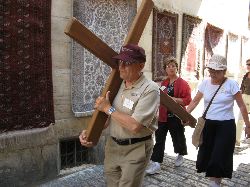 Registration is now open for a Holy Land Pilgrimage, February 6-16, 2015—a 10-day tour in the footsteps of Jesus. We are very excited to fly from Omaha to Tel Aviv at the low price of: $3,135 / person (double occupancy).
Scripture comes alive as we will visit Calvary and the Holy Sepulcher, walk the Way of the Cross, ponder at the Upper Room of the Last Supper; see Bethlehem and Nazareth; take a boat ride of the Sea of Galilee and bathe in the Jordan River; climb Mount Tabor or renew your wedding vows at Cana.
See pictures and find more info: Summary Info Page; or download or print the PDF Complete Flyer with Itinerary, Pricing, Details, and Registration Form. Questions? Email Fr. Coulter frcoulter@gmail.com or call 402-786-2705.