Now in its 50th anniversary year, Our Lady of Good Counsel Retreat House offers a peaceful atmosphere of prayer and recollection, situated on a spacious acreage near Waverly, Nebraska. The facility includes fifty single rooms, each with a private bath. Each retreat includes meditations by the retreat master, and opportunities for silence, prayer, adoration and the Sacraments. Retreats typically begin with Mass at 8:15 PM on Friday evening, and end with Mass on Sunday followed by lunch.
Take a tour, see the full retreat schedule, and register online: www.goodcounselretreat.com. You can also email goodcounsel@cdolinc.net or call 402-786-2705.
Oct. 3-5 Women's Retreat on The Kingdom of Christ
Regnum Christi, the Kingdom of Christ, is an apostolic movement of men and women who love Jesus Christ, His Church and souls. Members commit to live out their baptismal call to holiness and to engage in apostolic action, to establish the Kingdom of Christ in every person and in society.
The goal of the Regnum Christi retreat is to bring God's love to the retreatants, inspiring them to fall in love with Jesus Christ especially through prayer and the sacramental life, helping them come to know better the truths of the Catholic Faith and inviting them to participate actively in the evangelization of culture and society. Be awakened to discover your mission in life and in the Church.
The retreat will be presented by Father Michael Mitchell, L.C., ordained to the Legionaries of Christ in 2011. He works in Chicago as the vocation director for their community as well as chaplain for Mission Youth; he spends much of his time guiding young adult Missionaries in working with the poorest of the poor in Haiti and Mexico.
This retreat is open to all women, including those who are not familiar with the Regnum Christi movement. Register Online.
Oct. 10-12 Men and Women's Retreat Mary and the Laity's Call to Holiness with Father Jeremy Hazuka (Legion of Mary)
The theme of the retreat is Mary and the Laity's Call to Holiness. The Second Vatican Council Dogmatic Constitution on the Church, Lumen Gentium, devotes a chapter each to the laity, the universal call to holiness and the Blessed Virgin Mary, each chapter providing a foundation to considering the role that Marian devotion can play in the layperson's own call to holiness.
The Church places before all a most excellent means to find holiness: to piously meditate on the Blessed Virgin Mary and contemplate her son, Jesus Christ. Father Hazuka will reflect upon the virtues of Mary, as considered in various mysteries of the rosary, and how these can help the layperson embrace and fulfill their call to holiness. Resources for the retreat will be Lumen Gentium and Saint John Paul II's Apostolic Letter Rosarium Virginis Mariae, as well as Scripture, the Church's Liturgy, and other pious writings as we look to Mary as a pattern for our growth in holiness.
"My yearly retreat is my favorite week of the year," said Father Hazuka. "I look forward to the opportunity to rejuvenate spiritually, especially after I lose some of my spiritual zeal as life's events can wear me down." He used the image of the Transfiguration as an analogy for a retreat: "We ascend the mount with Christ and encounter His glory so that, when we descend the hill and face the Cross, we may continue to look forward with hope to His resurrection and what that means for us."
Father Hazuka is pastor of St. George Parish in Morse Bluff and Sacred Heart Parish in Cedar Hill. He is also principal of Bishop Neumann High School in Wahoo. He has been involved with the Legion of Mary in the Diocese of Lincoln for 15 years.
This retreat is open to men and women of all ages, including those who are not familiar with the Legion of Mary. Register Online.
Men's Day of Reflection with Bishop James Conley on Sat. Oct. 25, Christian Discipleship
All men are invited to a Day of Reflection with the Bishop James Conley of Lincoln, on Saturday, October 25, 9:00 AM to 5:00 PM (come at 8:30 AM for registration, coffee and rolls). The Day of Reflection will include conferences by the Bishop, plus Mass, Lunch, Confessions, and a Holy Hour. The topic of the Men's Day of Reflection is Christian Discipleship and Family Life: learning to put Jesus first within our family, to follow His teachings, and to bear fruit in spreading of the good news of Jesus Christ, especially through out love for others, manifested in service and sharing out faith.
Open to both single and married men, the bishop wants to especially examine how discipleship is lived in the family. His reflections will draw on the topic of the Synod of Bishops on the Family (October 5-19, 2014), and Cardinal Muller's new book Hope of the Family. Bishop Conley says, "Retreats are an opportunity to spend time in prayer, to hear the voice of God, and to commit to a deeper relationship with Jesus Christ and with his Church. The Men's Day of Reflection will be a time to reflect on the meaning of discipleship in Jesus Christ, and our vocations, our mission, and our family life."
Advance registration is preferred but not required, email goodcounsel@cdolinc.net or call 402-786-2705. Please invite other men to join this special Day of Reflection. A donation to the Retreat House is requested, but never required. Suggested donation is $50, Register Online.
Oct. 31-Nov.2 Men and Women's Retreat with Fr. Thomas Dunavan, Saints Yesterday and Today
Although All Saints Day is not an obligatory holy day this year, you can still celebrate All Saints by joining a retreat with Fr. Thomas Dunavan October 31-November 2 on the topic: Saints Yesterday and Today. Fr. Dunavan is pastor of St. Andrew Church in Tecumseh and St. Mary Church in St. Mary, and is an administrator and teacher at St Andrew School, Tecumseh. He is also associate director of Hispanic ministry in the Diocese of Lincoln, and a chaplain at the Tecumseh State Correctional Institution.
Fr. Dunavan has given retreats for over seven years, and finds that every year there are newly canonized saints, given to us by the church, which are upheld as models for us. Since November 2014 also begins a special Year for Consecrated Life called for by Pope Francis, Fr. Dunavan hopes to also integrate some saints who were consecrated religious, and see the connection of how their lives have meaning even for all members of the Church, pointing us toward the kingdom of heaven. He said, "The lives of the saints are like a buried treasure, we need to bring it to the surface, and allow their relevance to touch our lives. They're here to help us on our journey, to be inspired by them, and to assist us."
Fr. Dunavan finds that prayer refreshes the soul, and encourages everyone to take a weekend to find that refreshment which comes from time in prayer. He says, "We miss the forest for the trees, sometimes we get so focused on our day to day tasks and survival, we need to step back and encounter the beauty of the forest: see who is walking with us - our spouse, family, Church - and who has made this journey ahead of us - the saints." He also notes the advantage this weekend will have of including both All Saints Day and All Souls Day, and will include time in the retreat schedule to visit the cemetery (of the Marian Sisters) and pray for All Souls on that day.
Register Online for this retreat open to men and women of all ages.
Last Chance: Join a Pilgrimage to the Holy Land, February 2015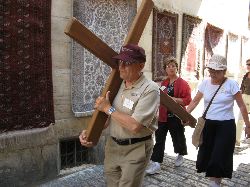 Registration is still open for a Holy Land Pilgrimage, February 6-16, 2015—a 10-day tour in the footsteps of Jesus. We are very excited to fly from Omaha to Tel Aviv for $3,135 / person (double occupancy), but cannot guarantee that low price after Nov. 1.
Scripture comes alive as we will visit Calvary and the Holy Sepulcher, walk the Way of the Cross, ponder at the Upper Room of the Last Supper; see Bethlehem and Nazareth; take a boat ride of the Sea of Galilee and bathe in the Jordan River; climb Mount Tabor or renew your wedding vows at Cana.
See pictures and find more info: Summary Info Page; or download or print the PDF Complete Flyer with Itinerary, Pricing, Details, and Registration Form. Questions? Email Fr. Coulter frcoulter@gmail.com or call 402-786-2705.