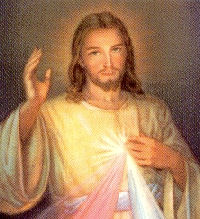 Lent, Holy Week, and Easter
All are invited to a Solemn Vespers (sung Evening Prayer) and Benediction, Apr. 6 and 13, the Sundays of Lent at 5:00 PM. Experience the prayer of the Church as the Liturgy of the Hours is chanted each Sunday evening of Lent at Our Lady of Good Counsel Retreat House.
Lent concludes with the holiest week of the year: the Holy Thursday Mass of the Lord's Supper, Good Friday reading of the passion and veneration of the cross, and the Easter Vigil, celebrating the light of Christ's resurrection that dispels all darkness in our lives.
The first eight days of the Easter Season form the Easter octave and are celebrated as solemnities of the Lord. Each day is another little Easter. The Easter Season continues for 50 days of celebration, even bigger than Lent. The Gospels of Easter relate the story of Christ's resurrection and how the apostles and other disciples meet the risen Lord Jesus, who tells them (and us): "Peace be with you. Do not be afraid!" And the first reading will be from the Acts of the Apostles, the story of the early Church and first Christians, who go out and proclaimed the resurrection faith, bringing thousands more to believe in Jesus risen from the dead.
Jesus asked St. Faustina that the Feast of Divine Mercy be celebrated on the Sunday after Easter, saying: "Mankind will not have peace until it turns to the fount of my Mercy." We can celebrate this "Mercy Sunday" by going to Confession that week and by receiving Communion on that day. We can honor the mercy of the Lord by venerating the Image of The Divine Mercy, and by our prayers and works of mercy.
Weekend retreat for men and women Apr. 11-13 with Fr. Christopher Kubat, That We All May Be One
Father Christopher Kubat, Director of Catholic Social Services, will give a weekend retreat Palm Sunday weekend on the topic: That We All May Be One. Fr. Kubat has been a priest for 15 years, served at St. Cecilia parish in Hastings and St. Mary parish in Lincoln. As Director of Catholic Social Services in the Diocese of Lincoln, he is known for his Seedlings Column in the Southern Nebraska Register, and the many charitable works done through Catholic Social Services under his direction.
Given that the retreat will begin Holy Week, Fr. Kubat will very appropriately give his retreat on John chapter 17 (which he suggests everyone read). These are part of Our Lord's last words to the apostles (and us) at the Last Supper before he dies. And the dying wish of Our Lord stressed the importance of unity for all we do, believe, and say. His prayer that we would be united.
Fr. Kubat says there is only one reason to go on a retreat, "to grow in holiness, to grow closer to God; and a growth in our love of neighbor will logically follow." He is an avid promoter of Good Counsel Retreat House and says, "Once someone has found the jewel the Retreat Center is, they will make it their mission to encourage their family and friends to attend." If you have had a good experience at the Retreat House, you have a mission to spread that word, don't place the lamp under a bushel basket.
This retreat is open to men and women of all ages. Register Online.
Holy Week Discernmen Retreat for young women Apr. 17-19 with the Marian Sisters and Fr. Michael McCabe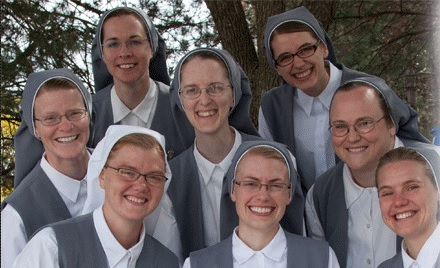 The sacred Triduum (Latin for "Three Days") from Holy Thursday to Holy Saturday provides a wonderful opportunity for single young women, aged 17-35, to experience Christ's deep love through his passion, death and resurrection, and to help discern their vocation. This silent Holy Week Retreat is sponsored by the Marian Sisters of the Diocese of Lincoln, who will be joined by Fr. Michael McCabe, pastor of St Mary Church in Nebraska City and Superintendent of Lourdes Catholic Schools.
For questions, information or registration, contact Sr. Serena: marian-vocations@cdolinc.net, 402-786-2750. RSVP by Mon. Apr. 14 - $30/students, $40/adults
April 25-27 Women's Retreat with Magnificat, There's Always More, Expecting New FIRE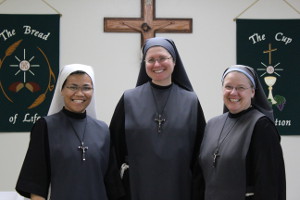 "There's Always More: Expecting New Fire" retreat presented by the Sister Disciples of the Lord Jesus Christ, sponsored by the Morning Star Chapter of Magnificat. All women are invited this Divine Mercy weekend to have a closer and deeper relationship with the Holy Spirit.
This Expecting New Fire Growth Seminar is for those women who: desire a closer walk with and in Christ's Holy Spirit; have recently encountered a conversion, a personal relationship with Jesus Christ; experienced renewal in the Holy Spirit through a Life In the Spirit Seminar; and those in the Catholic Charismatic Renewal (such as Magnificat) who desire refreshment. There will be talks, time for reflection, and prayer. This retreat will be given by Sister Lucy, Sister Mary Gianna and Sister Immaculee, members of the Disciples of the Lord Jesus Christ, from the Diocese of Amarillo, TX.
Sister Lucy Lukasiewicz grew up in a strong Catholic family in Farwell, Nebraska. She felt drawn to religious life and entered the Disciples of the Lord Jesus Christ, a Franciscan Charismatic Religious Congregation. Since her entrance, Sister Lucy has been heavily involved in youth ministry, adult ministry, and evangelistic outreach and in leading Praise and Worship. In 2002, Sister Lucy was elected the third Superior General in the congregation and became Mother Lucy. With the urging of Popes John Paul, Benedict XVI and Pope Francis, Sister Lucy has spread the work of the New Evangelization in the US, Poland, Russia, Germany, Italy, Africa and Brazil.
Sister Mary Gianna is a convert to the Catholic Faith. Growing up without any faith, she had a powerful conversion experience after surviving the shootings at Columbine High School in Littleton, CO. She was welcomed into the Catholic Church at the age of 19, while attending Franciscan University of Steubenville. She made her first profession of vows on August 10, 2013.
Sister Immaculee is the youngest of five siblings, born and raised from the little island of Samoa, in a traditional Catholic Family. She graduated from High School in 2006, attended college majoring in Education, but God had a different plan for her life and brought her to America during the summer of 2007. She entered the Disciples of the Lord Jesus Christ in 2011 and is now a second year Novice.
Sister Lucy says, "By opening yourself to God through the teachings of this Growth Seminar, you will be equipped with fresh zeal for a life of holiness and the New Evangelization".
This retreat is open to women of all ages. Register Online.
Plan Ahead for May
Sr. Ann Shields, weekend retreat for Men & Women May 2-4: Faith More Precious than Gold. Sr. Ann Shields of Renewal Ministries, is an internationally noted conference and retreat speaker and author of numerous books on Catholic spirituality including Deeper Conversion, To Be Like Jesus and in 2013, More of the Holy Spirit. She currently hosts the popular daily radio program Food for the Journey.
Bonus: Click here to listen to a 15-minute excerpt of Sr. Ann Shields speaking on the Word of God as the sword of the Spirit.
Bishop Fabian Bruskewitz will give a Day of Reflection for Women Sat. May 10: Prayer in the Christian Life. Ordained a priest for Milwaukee in 1960. Bishop Bruskewitz was Bishop of Lincoln for 20 years before retiring in 2012.
Join Steve Ray, Bishop Conley and Fr. Coulter on a Pilgrimage in the Footsteps of St. Paul
Join a Mediterranean Cruise Pilgrimage in the Footsteps of St. Paul, Oct. 31-Nov. 9, 2014. Sites include Thessalonica, Philippi, Constantinople, Ephesus (house of Mary), Patmos (St. John), and Athens. There is an optional Rome extension Oct. 27-30.
Sponsored by Spirit Catholic Radio and the Diocese of Lincoln, Steve Ray and Fr. Scott Courtney are our tour guides; join Bishop James Conley, Frs. Gary Coulter and Jay Buhman of Lincoln with Frs. Ryan Lewis, Damien Cook, and Michael Voithofer of Omaha. A once-in-a-lifetime pilgrimage with such leaders.
Read more info: Online Summary Page or Download the full PDF Brochure/Registration Form.