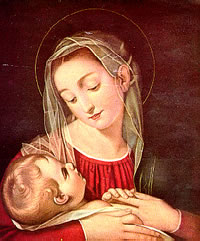 Christmas, A Gift of Peace
Pope Francis teaches in his 2016 Christmas message:
The power of this Child, Son of God and Son of Mary, is not the power of this world, based on might and wealth; it is the power of love. It is the power that created the heavens and the earth, and gives life to all creation: to minerals, plants and animals.
It is the force that attracts man and woman, and makes them one flesh, one single existence. It is the power that gives new birth, forgives sin, reconciles enemies, and transforms evil into good. It is the power of God.
This power of love led Jesus Christ to strip himself of his glory and become man; it led him to give his life on the cross and to rise from the dead. It is the power of service, which inaugurates in our world the Kingdom of God, a kingdom of justice and peace.
For this reason, the birth of Jesus was accompanied by the angels' song as they proclaimed: "Glory to God in the highest, and on earth peace among men with whom he is pleased!" (Lk 2:14).
Jan. 13-14
Women Register Now

LDCCW Winter Symposium, Mary in a Martha World, Jan 13-14, 2017

All women: we understand it's hard to be both Mary and Martha in today's world. Take time this January 13-14 to learn more about your faith, the LDCCW, and you! All women are invited to give yourself a re-boot with the 2017 LDCCW Winter Symposium.

The Lincoln Diocesan Council of Catholic Women (LDCCW) is an organization of all Catholic women in the Diocese of Lincoln. The LDCCW enriches the lives of Catholic women by pursuing projects designed to further spiritual and family life in all parishes and communities in southern Nebraska.

The two day Winter Symposium includes spiritual activities such as a a Rosary Vigil for the Unborn, Divine Mercy Chaplet, Confessions and Mass. It also includes numerous speakers such as Bishop James Conley of the Diocese of Lincoln and Tom Venzor, Executive Director of the Nebraska Catholic Conference. Plus a service project, wine & cheese social, panel discussion by Converts to the Catholic Faith, and much more.
Jan. 20-22
Men & Women Register Now

Weekend Retreat with Fr. Jay Buhman on The Seven Signs in St. John's Gospel: A New Creation, Jan. 20-22

This weekend retreat with Fr. Jay Buhman Jan. 20-22 on "The Seven Signs in St. John's Gospel: A New Creation" will be an opportunity to examine the Gospel of St. John, and see how the seven miracles performed by Jesus are actually "signs" as John calls them, presenting Jesus as doing the works "of the Father" - the work of a new creation. Examining Jesus' miracles such as the Wedding at Cana, Healing of the Blind Man, and Raising of Lazarus will help retreatants discern how Jesus wants to engage in the work of creation in our lives. Besides bringing a bible, retreatants may also enjoy "St. John's Gospel: A Bible Study Guide and Commentary" by Steve Ray.

Fr. Buhman says that retreats are a wonderful opportunity to take a step back and re-dedicate ourselves to God and to those we love: "A retreat gives us a unique opportunity to situate ourselves once again firmly in the midst of God's immense love and mercy for each one of us. Society today and our own sin erode our confidence and trust in God's love for us. Spending time in the silence and restfulness of a retreat helps us to see the truth of God's love once again."

Fr. Jay Buhman is currently assigned as a chaplain with FOCUS, the Fellowship of Catholic University Students, located on 113 campuses in 36 states, inviting college students into a growing relationship with Jesus, the Catholic faith, Christ-centered discipleship and friendships. Indeed Fr. Buhman will come on this retreat fresh after a FOCUS mission trip to Haiti and a week at SEEK 2017, the biannual FOCUS conference with over 12,000 Catholic college students from around the nation.

A priest for over twelve years, Fr. Buhman was privileged to serve as an assistant in Lincoln at St. Teresa, St. Thomas Aquinas/Newman Center, and Cathedral of the Risen Christ, as well as teaching at Pius X High School. He was also pastor of St. Peter and St. Joseph churches in Bellwood and a teacher at Aquinas High School in David City.

Men and women of all ages are invited to attend.
Feb. 3-5
Men & Women Register Now

Update: Weekend Retreat with Fr. Anthony Baetzold, CFR: Is my faith and trust in God growing?, Feb. 3-5

Unfortunately Fr. Andrew's Apostoli's age prevents him from attending the Feb. 3-5 weekend as previously scheduled, but the good news is that the Franciscan Friars of the Renewal are sending the General Vicar of their community, Fr. Anthony Baetzold, CFR who will lead the retreat, "Is my faith and trust in God growing?"

The Franciscan Friars of the Renewal began in the South Bronx of New York in 1987 with only eight friars; today they number more than one hundred and twenty, they work to serve the Church and the poor through a life of prayer and contemplation, the study of Sacred Scripture, fidelity to the Church and the Sacraments, and generous service. Fr. Antony, CFR joined the community in 1996 and was ordained in 2005. He has been involved in formation, directed a homeless residence and shelter, and worked in Hispanic ministry. Br. Angelus Montgomery, CFR - a native of Lincoln - will also assist at the retreat. ( Read more about Brother Angelus and his twin brother from the Southern Nebraska Register.)

To examine the theme of faith and trust, Fr. Anthony will examine the life and example of the Prophet Elijah in 1 Kings 17 and following. So a Bible will be key for the retreatants, and hopefully they can read up on him before they get there.

Edith Stein (St. Teresa Benedicta of the Cross) speaks about the prophet Elijah:

"Our Holy Father Elijah succinctly says what is most important in the 1st words of his that the scriptures give us. He says to King Ahab who worshiped idols, "As the Lord the God of Israel lives, before whom I stand, there shall be neither dew nor rain these years, except by my word." To stand before the face of the living God - this is our vocation. He stood before God's face because this was the eternal treasure for whose sake he gave up all earthly goods. He had no house; he lived wherever the Lord directed him from moment to moment: in loneliness beside the brook of Carith, in the little house of the poor widow of Zeraphath of Sidon, or in the caves of Mt Carmel. His clothing was an animal hide like that of that other great penitent and prophet, the Baptist. The hide of a dead animal reminds us that the human body is also subject to death. Elijah is not concerned about his daily bread. He lives trusting in the providence of the Heavenly Father. And he is marvelously sustained. A raven brings him his daily food while he is in solitude. He is for us an example of the gospel poverty that we have vowed, an authentic prototype of the savior. Elijah stands before God's face because all of his love belongs to the Lord."

The weekend retreat is open to men and women of all ages.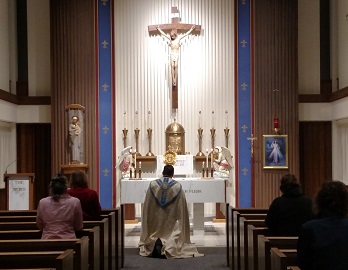 Our Gift to You: FREE Recordings of Past Retreats
Now available FREE as our gift to you! Did you make an New Year's resolution to work on your prayer and spiritual life? For spiritual renewal throughout the year, even when you can't make it to a retreat, listen to a recording of any one of our past retreats.
Some of the recent retreats, just a few of the many all available for FREE, include:
Bishop Conley and Fr. Coulter an Advent Retreat
Msgr Timothy Thorburn, "Does Jesus Really Care?
Fr. Christopher Kubat on Divine Mercy
Msgr. Joseph Nemec on St. Therese and her 'Little Way'
Fr. Mark Cyza, "Now is the Time of Mercy"
View all the Retreat Recording which are now available for FREE download.
Make a Fatima Pilgrimage for the 100th Anniversary of the Apparitions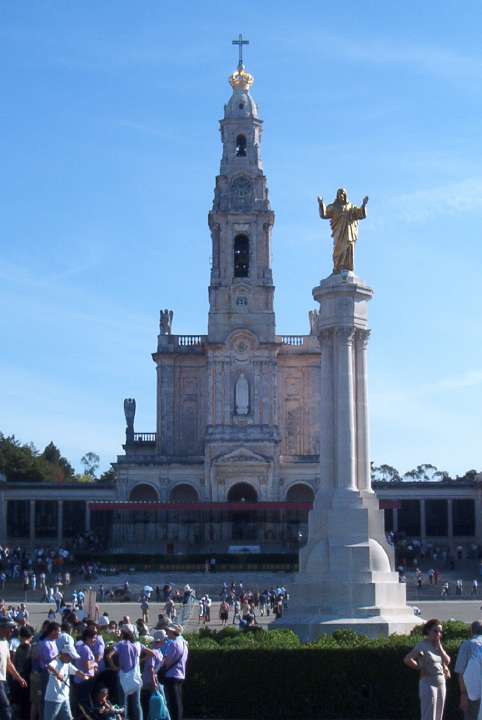 Join a 10-Day Pilgrimage to Lourdes & Fatima: France, Spain & Portugal with Fr. Gary Coulter (Director of Our Lady of Good Counsel Retreat House, Waverly) and Fr. Ronald Homes (Pastor of St Anthony, Bruno and Sts Peter & Paul, Abie) who will lead the 10 day pilgrimage to France, Spain & Portugal - July 5-14, 2017 - Departing Omaha, NE.

We are now registering those who are interested in coming on this 10 day tour, scheduled to coincide with the 100th Anniversary of Fatima, including a retreat day in Fatima on the 13th of July, the date of Mary's appearance. Call Fr. Coulter at 402-786-2705 or Fr. Homes at 402-543-2233.

For more information come to a Pilgrimage Info Night on Sun. Feb. 12, 8:00pm at Gianna's Java and Gelato, 2241 O St, Lincoln (all are also welcome to Fr. Coulter's Coffee House talk at 7pm before the Info Night on "A Rosary Pilgrimage of the Holy Land".) Or visit www.frcoulter.com/fatima,

View or Print the Complete Flyer with Itinerary, Pricing and Details
Online Registration now available