For over 50 years, Our Lady of Good Counsel Retreat House offers a peaceful atmosphere of prayer and recollection, situated on a spacious acreage near Waverly, Nebraska. The facility includes fifty single rooms, each with a private bath. Each retreat includes meditations by the retreat master, and opportunities for silence, prayer, adoration and the Sacraments. Retreats typically begin on Friday evening at 8:00 PM with a Rosary followed by Mass, and end with Mass on Sunday followed by lunch.
Take a tour, see the full retreat schedule, and register online: www.goodcounselretreat.com.
You can also email goodcounsel@cdolinc.net or call 402-786-2705.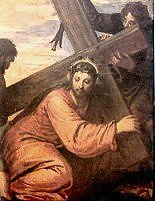 Plan Ahead for Lent
Lent is an annual season of repentance and conversion (especially through the Sacrament of Penance/Confession) and a time meditate on the Lord's Passion (through the Stations of the Cross). We work to fight against sin and temptation (through our sacrifices, abstinence and fasting) and to grow in virtue (through acts of charity and almsgiving).
You are invited to consider what you will do for this Lent. Do not enter this season haphazardly, but rather plan ahead some resolutions and penances that are concrete and practical, increasing the likelihood you will keep them. For example: weekday Mass attendance, daily family rosary, daily Bible or spiritual reading, Eucharistic Holy Hours; giving up television, Facebook, alcohol, junk food and snacks; doing positive things like eating simpler meals, giving to the poor or the Church, being more cheerful and helpful, offering discomforts and inconveniences with smiling acceptance.
This year Solemn Vespers (sung Evening Prayer) and Benediction will be held at Sacred Heart Church in Lincoln: each Sunday of Lent, 5:00 PM. Experience the prayer of the Church as the Liturgy of the Hours is chanted each Sunday evening at Sacred Heart, beginning Feb. 14.
Feb. 5-7
Men & Women Register Now

Praying with Mary, a Weekend Retreat with Fr. Matthew Eickhoff

On this retreat for men or women, Fr. Matthew Eickhoff will point out how the Church has been greatly enriched by many devotions and prayers to Mary, and therefore invites you to explore this rich tradition. The retreat would be of interest for anyone who wants to grow in appreciation for what the Marian prayers and devotions of the Church have to offer for our spiritual lives. Anyone who wants to have a more Marian spirituality and prayer life should attend. The talks will draw from a variety of sources, including traditional Marian prayers and devotions such as the Rosary, approved Marian apparitions, and of course the rich tradition of Sacred Scripture and the writings of the Saints.

Fr. Matthew Eickhoff is pastor at Holy Trinity Church in Brainard and Director of the St. Luke Czech Catholic Shrine in Loma. He helps with various diocesan apostolates, including the Divine Mercy Apostolate, Engaged Encounter and Healing Hearts bereavement ministry. He also led the recent diocesan pilgrimage to the World Meeting of Families in Philadelphia. Fr. Eickhoff did graduate studies at the John Paul II Pontifical Institute for Studies in Marriage and Family in Washington, D.C. before becoming Director of the Family Life Office of the Diocese of Lincoln for many years. He is currently doing doctoral studies in Spiritual Theology. His past assignments include St. Cecilia Church in Hastings, the Cathedral in Lincoln, St. Francis Church in rural David City, and Superintendent at Lourdes Central Catholic Schools in Nebraska City.

Asked about the value of retreats, Fr. Eickhoff noted: "Weekend retreats provide an excellent opportunity to step away from life's routines and distractions to focus on what is most important in life - namely, our relationship with Jesus. Only when we set aside for ourselves an extended time for prayer and reflection can we come to appreciate the great treasures we possess in the Sacraments and traditions of the Church, as well as Mary and the saints who used these treasures to perfect themselves in virtue and in holiness."
Feb. 10, Ash Wednesday Day of Recollection for Women, Father Gary Coulter, Pope Francis and the Year of Mercy
The Lincoln Diocesan Council of Catholic Women (LDCCW) is hosting an Ash Wednesday Day of Recollection for Women on February 10 at Good Counsel Retreat House. The day will be given by Father Gary Coulter, director of the Retreat House, on the topic, "Pope Francis and the Year of Mercy."
Registration is 9:00-9:30 AM, the Day starts with Divine Mercy Chaplet at 9:45 AM, concludes with 2:00 PM Mass and Ashes, and includes Conferences, Stations, Confessions, and Adoration. Drinks are provided; bring your own Sack Lunch.
There is no advance registration for the Day of Recollection, cost is $10 at the door. Note: there will be a parallel Retreat Day held at the same time at Hastings St. Michael Church.
Feb. 5-7
Men Register Now

Friendship: The School of Charity, a Men's Weekend Retreat with Bishop Conley and Fr. Coulter

All men are invited to a Weekend Retreat with Bishop James Conley and Fr. Gary Coulter, Feb. 12-14, entitled Friendship: The School of Charity. Topics include: friendship and the spiritual life, models of Christian friendship, and friendship and the new evangelization. Bishop Conley said that "there is decline of holy friendships, especially among men, in modernity" and therefore "today more than ever, men need good Christian friendships with other men."

The Bishop of Lincoln since 2012, Conley plans to draw on various models of friendship, as seen between Our Lord and his apostles, in the lives of Blessed John Henry Newman and C.S. Lewis, and other saints. His sources will include Matthew Kelly's vision of discipleship (see Four Signs of a Dynamic Catholic) and John Senior's ideas about Christian culture (see The Restoration of Christian Culture). Fr. Gary Coulter, director at Our Lady of Good Counsel Retreat House, will share half of the conferences on the retreat, and talk about the example of different male saints, as well as addressing issues of concern for men today. The program is simple, he says, "Be a man! Be a saint!"

Open to single and married men of all ages, Bishop Conley says, "Retreats like this are an opportunity to spend time in prayer, to hear the voice of God, and to commit to a deeper relationship with Jesus Christ and with his Church. The Man-2-Man retreat will be a time to reflect on the meaning of discipleship in Jesus Christ, and our vocations, our mission, and our family life."

Wives, consider this a Valentine's gift to give your husbands; and husbands, know that the retreat will be done in plenty of time to still celebrate Valentine's Day.
Feb. 26-28
Men & Women Register Now

Now is the Time of Mercy, a Weekend Retreat with Fr. Mark Cyza

On this Year of Mercy retreat for men or women, Fr. Mark Cyza wants to highlight the great reality of God's love for us and desire pour out that mercy upon and forgive our sins so that we might live as children of God, for truly Now is the Time of Mercy.

Who should come on this retreat? "This retreat is for sinners," Fr. Cyza laughs. "But seriously, If you're not a sinner you don't need this retreat." Why did Pope Francis call for a year of Mercy? Why did our Lord reveal his image to St. Faustina? Because, Fr. Cyza says, "We constantly need to remember this truth: every human heart is in need of God's mercy, is in need of Christ. It is not by our own power that we are saved."

The primary source for Fr. Cyza's conferences will be the Diary of St. Faustina: Divine Mercy in My Soul.

Speaking on the importance of retreats, Fr. Cyza referenced the teaching of Vatican II on the universal call to holiness: "lay people need to realize they are each called to a deep relationship with Jesus and a deep life of prayer. Retreats are a special time for us to have this deeper encounter with Jesus, to allow the Lord to speak in the silence of the heart. The time we have on retreat allows us to facilitate that encounter."
Plan Ahead for March
All are invited to continue their Lent with Msgr. Joseph Nemec (Pastor of St. Teresa Church, Lincoln) as he gives a retreat Mar. 4-6 on St. Therese and her 'Little Way. Connect with the profound spirituality in her Autobiography, helping renew your relationship with God and completely confiding in His mercy.
Conclude your Lent with a 3-Day Ignatian Holy Week Retreat for men and women together with FOCUS (Fellowship of Catholic University Students), Tues-Thurs Mar. 22-24. Retreatants will meet individually with the FOCUS chaplains/missionaries, including Fr. Jay Buhman, Fr. Ben Holdren, and Fr. Joseph Taphorn. Adults $180/Students $140.
Young Women are invited to the Marian Sisters Holy Week Discernment Retreat, Thurs.-Sat. Mar. 24-26. for single women aged 17-35, a silent retreat to experience Christ's deep love through his passion, death and resurrection. Contact Sr. Serena: marian-vocations@cdolinc.net, 402-786-2750. Adults $40/Students $30.