The Assumption of the Blessed Virgin Mary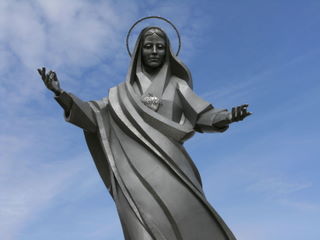 On November 1, 1950, Pope Pius XII defined the dogma of the Assumption. He solemnly proclaimed that it is a part of our faith that the Blessed Virgin Mary, at the end of her life on earth, was taken up body and soul into the glory of heaven. Therefore each year on August 15 we celebrate as a Holy Day of Obligation this mystery which we pray in the 4th Glorious Mystery of the Rosary .
A week later, August 22 recalls the Queenship of Mary, which we pray in the 5th Glorious Mystery, that Mary is Queen of Heaven and Earth, Queen of all the Angels and Saints. Given these Marian feasts, it is no surprise that the month of August is dedicated to the Immaculate Heart of Mary.
Saturday August 9: GodTeens Leader's Retreat
Whether you calls it GodTeens, CYO, Youth Group, or something else, our parishes are blessed to have a large number of volunteers who work with our High School students each year.
Please spread the word to the leaders in your parish about this opportunity for all GodTeen Leaders to make a Retreat Workshop: Saturday, August 9, 8:00 AM - 5:30 PM. Join GodTeen leaders from around the diocese for a retreat day to prepare for the upcoming GodTeen program year!
This retreat day is sponsored by the Diocese of Lincoln Office of Family Life and Evangelization, and will be led by the Director, Fr. Sean Kilcawley.
Women's Retreat with Fr. Buhman: "Discipleship in the Life of St. John Paul II" Aug. 15-17 (Assumption Holy Day)
This retreat for women on Discipleship in the Life of St. John Paul II will be led by Fr. Jay Buhman, pastor of St. Peter and St. Joseph Churches in Bellwood and a teacher at Aquinas High School in David City the last four years. A priest for ten years, Fr. Buhman was privileged to serve as an assistant in Lincoln for six years: at St. Teresa, St. Thomas Aquinas/Newman Center, and Cathedral of the Risen Christ, as well as teaching at Pius X High School.
The topic for the retreat will be Discipleship in the Life of St. John Paul II, especially based on reflections profoundly impacted by two books: Jason Evert's Saint John Paul the Great: His Five Loves, and Bishop Patrick Ahern's Three Gifts of Therese of Lisieux.
Fr. Buhman says that retreats are a wonderful opportunity to take a step back and look at all of our relationships and to re-dedicate ourselves to God and to those we love: "A retreat gives us a unique opportunity to situate ourselves once again firmly in the midst of God's immense love and mercy for each one of us. Society today and our own sin erode our confidence and trust in God's love for us. Spending time in the silence and restfulness of a retreat helps us to see the truth of God's love once again."
Note that this retreat will begin with a Mass that fulfills the Holy Day Obligation for the Assumption of Mary, August 15.
This retreat is open to women of all ages. Register Online.
Plan Ahead for September
Good Counsel Retreat House is excited to have three upcoming retreats for both Men and Women in September. As always, see the full schedule of retreats, and register online, at our website: www.goodcounselretreat.com.
Sept. 5-7, Fr. Jerel Scholl, pastor of Assumption Parish, Dwight, will give a retreat for men and women entitled: "Human Disorders: Fear and Anxiety".
Sept. 18-21, Opus Sanctorum Angelorum, the "Work of the Holy Angels" will host a 4-Day retreat for men and women with Fr. Wolfgang Seitz, OCR.
Sept. 26-28, a Vietnamese Retreat for men and women led byFr. Son T Dinh.
What is the Gift of Good Counsel?
Among the seven gifts of the Holy Spirit, we find the gift of Good Counsel, which perfects the virtue of prudence. It is important for Catholics to invoke and care for the gifts made available to them in their Confirmation in order to be a Christian not just in name, but in fact.
The gift of Good Counsel perfects the virtue of prudence by making us judge promptly and rightly what must be done, as by a sort of supernatural intuition, especially in difficult cases. By the virtue of prudence we reflect and carefully seek out the best means of attaining a certain end, profiting by the lessons of the past, and putting to advantage our present knowledge, in order to reach a wise decision. But with the gift of Counsel, the Holy Spirit speaks to our heart and enables us to understand what we must do.
The proper object of Good Counsel is the right ordering of particular acts. The gifts of Knowledge and Understanding furnish us with general principles. But the gift of Counsel enables us to apply these principles to the thousands of particular cases that present themselves. The light of the Holy Spirit shows us what must be done at the time, at the place, and in the circumstances we find ourselves. This gift is necessary in more important and difficult situations: particularly when a person's salvation and sanctification is involved, such as discerning a vocation, and avoiding certain occasions of sin. At decisive moments, human reason, being fallible and uncertain, is only able to proceed slowly and with caution. But with the gift of Counsel, we invoke the one who with a single glance, sees it all, and who at the appropriate moment makes us see with certainty what we must do.
Join a Pilgrimage to the Holy Land, February 2015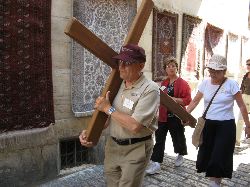 Registration is now open for a Holy Land Pilgrimage, February 6-16, 2015—a 10-day tour in the footsteps of Jesus. We are very excited to fly from Omaha to Tel Aviv at the low price of: $3,135 / person (double occupancy).
Scripture comes alive as we will visit Calvary and the Holy Sepulchre, walk the Way of the Cross, ponder at the Upper Room of the Last Supper; see Bethlehem and Nazareth; take a boat ride of the Sea of Galilee and bathe in the Jorday River; climb Mount Tabor or renew your wedding vows at Cana.
See pictures and find more info: Summary Info Page; or download or print the PDF Complete Flyer with Itinerary, Pricing, Details, and Registration Form. Questions? Email Fr. Coulter frcoulter@gmail.com or call 402-786-2705.
(Please note: this is not to be confused with the Mediteranean Pilgrimage cruise in the Footsteps of St. Paul, Oct. 31-Nov. 9, 2014. Registrations are still open for that, read more at www.lincolndiocese.org/pilgrimage.)