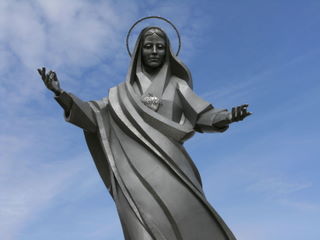 The Assumption of the Blessed Virgin Mary
On November 1, 1950, Pope Pius XII defined the dogma of the Assumption. He solemnly proclaimed that it is a part of our faith that the Blessed Virgin Mary, at the end of her life on earth, was taken up body and soul into the glory of heaven. Therefore each year on August 15 we celebrate this mystery which we pray in the 4th Glorious Mystery of the Rosary. (Note: because it falls on a Saturday, the Assumption is not an obligatory Holy Day this year.)
A week later, August 22 recalls the Queenship of Mary, which we pray in the 5th Glorious Mystery, that Mary is Queen of Heaven and Earth, Queen of all the Angels and Saints. Given these Marian feasts, it is no surprise that the month of August is dedicated to the Immaculate Heart of Mary.
Retreats for Women this Year
Although Fr. Courtney's retreat for women Aug. 14-16 is full, we have many other "women only" events in the coming year:
Nov. 6-8, 2015 Women's Retreat with Regnum Christ: The Kingdom of Christ
Jan. 15-16, 2016 Winter Symposium with the Lincoln Diocesan Council of Catholic Women (LDCCW)
Feb. 10, 2016 Ash Wednesday Day of Reflection, sponsored by the LDCCW
Apr. 8-10, 2016 Women's Life in the Spirit retreat with Magnificat, led by the Disciples of the Lord Jesus Christ
May 6-7, 2016 Women's Retreat with Teresa Monaghen: Mary: Mother of Mercy
Retreats for Groups: Are They Open to You? "Yes!"
Several of our retreats, although sponsored by or designated for special groups, are still open to all men and women. The general public is always welcome if they are interested in a particular retreat topic:
Sept. 24-27, 4-Day Retreat on "The Work of the Holy Angels" - sponsored by Opus Sanctorum Angelorum, for all who want to learn about the holy angels and their ministry.
Oct. 2-4, Bishop Emeritus Fabian Bruskewitz on "Holy Vocations in the Footsteps St. Junipero Serra" - open to anyone who wants to learn about our newest canonized Saint, and of special interest to Serra Club members who promote vocations.
Oct. 23-25, Legion of Mary Retreat with Fr. Thomas Schultes, "Walking with Mary" - Legion of Mary members, and anyone with a devotion to Mary, will be interested in this retreat offering insight about the Blessed Mother's faith and devotion.
Nov. 6-8, Regnum Christi Women; Nov. 19-22, Regnum Christi Men - these retreats are not limited to just Regnum Christi members: all are invited to grow in a Christ-centered spirituality and learn to build "The Kingdom of Christ" in the world.
Dec. 4-6, Fr. Andrew Heaslip, "Receiving and Offering the Mercy of God" - this retreat for teachers and catechists, will also be of interest to anyone wanting to start the Year of Mercy on the right foot, especially parents.
Sept. 4-6
Men & Women Register Now

Fr. Jerel Scholl, "Human Disorders: Fear and Anxiety"

In this retreat Sept. 4-6 on "Human Disorders: Fear and Anxiety" Fr. Jerel Scholl recognizes that an important part of the spiritual life is also understanding human psychology. To objectively observe human nature is to better understand what it is that tempts us to do wrong, which will therefore help us to gain control over disordered decisions. Knowledge of what motivates our decisions can be a very powerful tool in helping a person to understand who they are and possess peace in their life.

Fr. Scholl incorporates material from Venerable Fulton Sheen, Father Benedict Groeschel, and Bishop-elect Robert Barron. As the great Archbishop Fulton Sheen once said: "All our anxieties relate to time. A human being is the only time-conscious creature. Humans alone can bring the past to mind, so that it weighs on the present moment with its accumulated heritage; and they can also bring the future into the present, so as to imagine its occurrences as happening now... All unhappiness (when there is no immediate cause for sorrow) comes from excessive concentration on the past or from extreme preoccupation with the future."

Fear is also a very powerful force that can be very controlling, if we allow it. Fear is related to love, particularly when something or someone we love is in dangerous circumstances. However, fear and anxiety can be very a strong force within us, that can potentially persuade a person to react in ways that are contrary to truth and love which we would otherwise not choose.

Father Jerel Scholl is the new pastor of St. Paulinus in Syracuse and Holy Trinity in Avoca. Since his ordination in 2001, besides his parish duties, Fr. Scholl has been teaching High School religion classes, which include the topics of morality and material from the Catechism. Fr. Scholl says that in teaching this material "I have developed a hunger to share such vital and important information to others." Fr. Scholl will be teaching at Lourdes Central Catholic School in Nebraska City.
Pope Francis on the Spiritual Retreat
Pope Francis concluded his journey to Latin America by meeting young people in Paraguay on June 12th. In answer to their questions on how to move forward in their faith, he replied that "spiritual retreats" are one of the keys:
Spiritual retreats: Saint Ignatius has a famous meditation on the two standards. He describes the standard of the devil and then the standard of Christ. It would be like the football jerseys of two different teams. And he asks us which team we want to play for.
In this meditation, he has us imagine: What it would be like to belong to one or the other team. As if he was saying to us: "In this life, which team do you want to play for?"
Saint Ignatius says that the devil, in order to recruit players, promises that those who play on his side will receive riches, honor, glory and power. They will be famous. Everyone will worship them.
Then we have Jesus, who asks us to play on his team. He doesn't con us, nor does he promise us the world. He doesn't tell us that we will find happiness in wealth, power and pride. Just the opposite. He shows us a different way. This coach tells his players: "Blessed, happy are the poor in spirit, those who mourn, the meek, those who hunger and thirst for righteousness, the merciful, the pure in heart, the peacemakers, those who are persecuted for righteousness' sake". And he ends up by telling them: "Rejoice on account of all this!".
Why? Because Jesus doesn't lie to us. He shows us a path which is life and truth. He is the great proof of this. His style, his way of living, is friendship, relationship with his Father. And that is what he offers us. He makes us realize that we are sons and daughters.