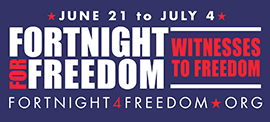 Fortnight for Freedom: Freedom to Bear Witness
The Fourth of July, as a national holiday, is not a specifically religious feast. Yet it should be an occasion for us to be thankful to almighty God for the country we live in, calling to mind the Christian roots of America and the liberty we so cherish. Religious freedom is "Our First, Most Cherished Liberty" a cornerstone of the American experience and vital to the life of a free people.
The Fortnight for Freedom will take place from June 21 to July 4, a time when our liturgical calendar celebrates a series of great martyrs who remained faithful in the face of persecution: St. Thomas More and St. John Fisher, St. John the Baptist, SS. Peter and Paul, and the First Martyrs of the Church of Rome. Indeed the theme of this year's Fortnight is "Witnesses to Freedom".
The U.S. Bishops Website provide information on 14 women and men of faith, from all over the world, who bear witness to authentic freedom in Christ. Some examples from North America include St. Kateri Tekakwitha, Bl. Miguel Pro, and the Little Sisters of the Poor. Hold firm, stand fast, and insist upon what belongs to you by right as Catholics.
New Schedule of Retreats is Published Online
Good Counsel Retreat House is pleased to announce that Registration for 2016-2017 Retreats is now open.
See the full schedule of retreats, and register online, at our website: www.goodcounselretreat.com; email goodcounsel@cdolinc.net or call 402-786-2705.
We are blessed to have such great retreat masters, who generously give their time and talent in leading retreats. A number will be returning this fall, such as: Fr. Courtney, Fr. Thomlison, Fr. Holoubek, and Bishop Conley.
We also want to introduce some of our new retreat masters this fall: Fr. Michael Morin—Pastor of St James Church, Mead; Fr. Jonathan Haschke—Pastor of Sacred Heart and Assumption Churches, Roseland; Msgr. Timothy Thorburn—Vicar General of the Diocese and Chaplain of the Carmelite Monastery.
What are Silent Ignatian Retreats?
Ignatian Retreats, based on the Spiritual Exercise of St. Ignatius of Loyola, are also known as silent retreats. Our typical weekend retreats are a 'preached' retreat with a series of talks given by the retreat master. But an Ignatian Retreat is a 'directed' retreat in which the retreatant meets privately with the retreat director once per day, who then gives the retreatant direction and scripture passages for the coming day.
The heart of the Ignatian Retreat involves spending at least four prayer periods each day in meditation on scripture. Thus the real director of an Ignatian Retreat is the Holy Spirit. The retreat is marked by a complete silence, as there are no common prayers or devotions outside of Mass, and no social time as even the meals are taken in silence to continue the reflection and prayerful atmosphere. Retreatants journal about each of their prayer times and the movements that occurred there, so that when they meet with the director, they can be given guidance and appropriate scripture passages for their meditation.
As there is a growing interest in Ignatian Retreats, we are pleased to offer several opportunities:
Retreatants should bring a bible, journal, and spiritual reading, you also might like to read Meditation and Contemplation by Father Timothy Gallagher, OMV
Aug. 26-28
Women Register Now

Women's Retreat with Fr. Courtney: "Jesus is The Way, Truth & Life in St. John" Aug. 26-28, 2016

All women are invited to bring their bibles and open the Word of God, August 16-18, with a retreat on the theme Jesus is The Way, Truth & Life in St. John led by Fr. Scott Courtney, new pastor at St Joseph, Geneva and St Mary, Shickley, and director at Camp Kateri. Ordained in 2000, Fr. Courtney's past parish assignments include parishes in Steinauer and Burchard, Bellwood and Hastings, and Lincoln North American Martyrs and St Teresa.

What did Jesus mean when He said, "I am the way and the truth and the life" (John 14:6)? Fr. Courtney will look at highlights from the Gospel of John such as the Wedding at Cana, Nicodemus, the Samaritan Woman, the Blind Man, and more. Besides having a bible to write and underline in, he suggests retreatants also bring a copy of St. John's Gospel: A Bible Study Guide and Commentary by Steve Ray which he will be using to dig deeply into the Gospel of John.

Fr. Courtney enjoys giving retreats because he says "these retreats are an opportunity for me to love scripture more, and help others to do the same." He invites all women to come, "get away from the daily schedule and meet Christ in prayer." Retreatants should note that this retreat may not be as silent as our usual retreats, as Fr. Courtney enjoys discussion, participation, and bonding at meals. Open to women of all ages.
Oct. 7-9
Men & Women More Information

Year of Mercy Conference (Oct. 8) and Retreat (Oct. 7-9) with Fr. Wade Menezes, CPM

Together with the Divine Mercy Apostolate of the Diocese, Good Counsel Retreat House is sponsoring Fr. Wade Menezes, CPM, missionary preacher with the Fathers of Mercy and host of several radio and television series for EWTN, for two combined events:

One-Day Conference: Sat. Oct. 8 (9am-4pm) at North American Martyrs, Lincoln with Talks, Mass, Exposition, Chaplet, Confessions and more. $45 includes snacks and lunch. Additional speakers include Fr. Sean Kilcawley and Matt Simmons of the Diocese of Lincoln. OR

Three-Day Retreat that includes attending the Conference: Fri. Oct 7 (8pm) to Sun. Oct. 9 (Noon) at Good Counsel Retreat House, Waverly. $195 includes registration for the Conference, plus 2 nights with a private room, all meals and snacks, and an additional four retreat talks by Fr. Wade Menezes at the Retreat House.

See Registration and full schedule at: lincolndiocese.org/mercy-conference
Introducing our new Registration System
To help save costs, and also offer a more flexible registration system that allowed us to customize the registrations for individual retreats, the Retreat House has moved to a new registration system. A couple of things you will notice as the end user:
When you go to register for a retreat, you will see that the URL changes from goodcounselretreat.com to jotform.com - this is our new registration system, so don't be surprised to see that.
You will be able to see immediately how many rooms are available, or if a retreat is full, to sign up for a waiting list.
Online payments are now processed by PayPal*, so those who wish to pay with their Credit or Debit card will also be taken to the paypal.com website to complete the purchase/donation.
Our registration system only allows the registration of one person per one retreat at a time, so spouses or family members will have to register separately, or if you plan to attend multiple retreats. (Although you are welcome to make one lump sum payment or deposit, please register each person and retreat individually.)
Of course, we still accept Cash or Check if that is your preferred method of payment.
As a donation, no one is ever turned away for inability to pay. If you are able to add on an extra donation, it will go to help someone who can't pay the full amount. Thank you for your generosity.

(*Please note you do not need a PayPal account if you don't have one; creating an account simply saves your card information so you don't have to enter it every time. If you have a PayPal account, but do not want to use it to pay from your PayPal balance, you should begin your registration process with a private/incognito browser.)