Happy Thanksgiving and Blessed Holidays (Holy-Days)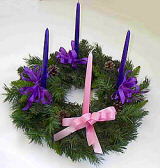 Good Counsel Retreat House gives Thanks to Almighty God for his many blessings, especially the graces he continues to pour out on our retreatants; and we say Thank You to all who have joined us on retreat, and to our many supporters who remember us in their generosity.
This December newsletter comes early to remind you of the upcoming season of Advent, praying that in the busyness we do not lose sight of the real reason for our activity, and inviting you to make an Advent retreat - a great way to prepare ourselves for the arrival of the Christ child, and get a jump start on preparing new spiritual goals for the coming year!
Between now and our next newsletter, there will be three Holy Days of Obligation (mark your calendars): December 8, the Immaculate Conception; December 25, the Nativity of the Lord; and January 1, the Blessed Virgin Mary, the Mother of God. May celebrating these solemnities help us keep our thoughts on the incredible love and humility of our God who takes on flesh in the Virgin Mary, and desires to come dwell in our hearts. May your holidays also be Holy Days!
Advent retreat for men and women December 5-7 with Fr. Thomas Kuffel on Discerning the Spirit
All men and women are invited to begin Advent with a weekend retreat Dec. 5-7 led by Fr. Thomas Kuffel on "Discerning the Spirit". Fr. Kuffel, who just celebrated the 25th jubilee of his priestly ordination, studied and worked in Rome. He has taught high school at Nebraska City Lourdes, Lincoln Pius X, and Wahoo Bishop Neumann. He was Director of Camp Kateri and has been a pastor in Davey, Valparaiso, and Exeter, and is currently pastor in Grant, Wallace, and Elsie.
Fr. Kuffel will offer his retreat to help Advent be a prayerful and reflective time for you. He plans to give seven talks on different stages of holiness, with topics such as growing in virtue, prayer, discerning God's will through meditation, and living your life as a Catholic.
Knowing the busyness that surrounds Christmas preparations, Fr. Kuffel describes retreats as "a chance to reflect on the direction of your life, renew your commitment to your baptismal vows, and understand God's will despite the sometimes difficult world." Join in the Mass, Adoration, Confess, prayers, and opportunities to meet one-on-one. During Advent we can join Mary who pondered many things in her heart, and thus prepare your heart for Jesus' presence this Christmas.
This retreat is open to men and women of all ages. Register Online.
Advent retreat for men and women December 12-14 with Fr. James Meysenburg: Is There Room in Your Inn?
Fr. James Meysenburg will offer a weekend retreat for men and women December 12-14, on the Advent topic "Is There Room in Your Inn?"
All are invited to join in spiritual preparation for Christmas, recalling that Jesus was laid in a manger because there was no room for him in the inn. If our hearts are as an inn, do we have room for Jesus in us? Too many may miss the opportunity to have Christ reign in their hearts, a gift that far exceeds all shopping sprees and presents. Prepare to celebrate the birth of Jesus Christ with a retreat to open your heart and your life to Him.
Fr. Meysenburg, celebrating his 25th year of priestly ordination, is Superintendent of Pius X High School in Lincoln and has spend much of his priesthood in High School ministry. He says that retreats are important for laity because, "It's so easy to get caught up in the 'thick of thin things', we need to step back and prioritize, to put emphasis on the things and relationships that are most important, most especially our relationship with God."
This retreat is open to men and women of all ages. Register Online.
Plan Ahead for January: Upcoming Event and Retreat
The Lincoln Diocesan Council of Catholic Women (LDCCW) invites all women to a Winter Symposium, Fri-Sat. January 16-17, 2015, on the theme "Thy Will be Done".
An incredible lineup of talks include: Greg Schleppenbach, Executive Director Nebraska Catholic Conference: Rev. Christopher Kubat, Director of Catholic Social Services; Sr. Joan Kolbe, Marian Sister novice; Angela Copenhaver, Spirit Catholic Radio Development Director; and Bishop James D. Conley of Lincoln. Plus our priests, priests' mothers, and other surprise local speakers.
Come for as much of the two days as you can make: Friday 7:00-10:00 PM, Saturday 8:00 AM-3:00 PM. Download the Full Schedule and Registration Form (PDF) or Register Online.
---
Weekend retreat for Men and Women Jan. 30-Feb. 1 with Fr. William Holoubek, Unbound-Breaking Free from Spiritual Wounds
Recognizing and identifying the sources of our woundedness to understand and discover how to embrace change that gives freedom. Please be advised, that if you are thinking about attending this retreat, it is filling up quickly so you should Register soon.
CDs/MP3s Retreat Recordings Available
Still shopping for Christmas? Or just a little present for yourself? Recent recordings include:
Fr. Sean Kilcawley: The Theological Virtues & Joy of the Gospel - encounter Jesus Christ in a more profound way and gain insight into how to hand on to others what you have received from the Lord.
Bishop James Conley: Catholic Discipleship and Family Life - learning to put Jesus first within our family, to follow His teachings, and to bear fruit in spreading of the good news of Jesus Christ.
Fr. Jeremy Hazuka: Mary and the Laity's Call to Holiness - find the most excellent means to find holiness: to piously meditate on the Blessed Virgin Mary and contemplate her son, Jesus Christ.
Click here to order online: MP3 Downloads, MP3 CDs or Audio CDs
Have a Blessed Christmas and New Year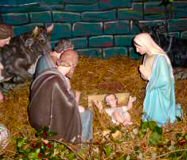 Our director, Fr. Gary Coulter, and all the staff at Our Lady of Good Counsel Retreat House pray that you have a grace filled Christmas and New Year.
Still need a gift for the person who has everything? Consider giving the gift of a retreat! Purchase Gift Certificates online, or call: 402-786-2705.
Please consider remembering Our Lady of Good Counsel Retreat House in your year-end giving. Tax deductible donations for 2014 must be received by Dec. 31: 7303 N 112th St; Waverly NE 68462.
Donate Online conveniently and securely.