Mount Saint Mary's Seminary Alumni
News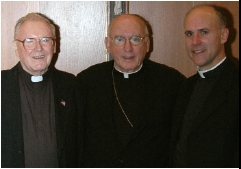 2004 Picture of Mount former rectors Msgr. Richard McGuinness, Archbishop Harry Flynn and Rev. (Bishop) Kevin Rhoades.
R.I.P. Fr. Terry Cramer (S'99) from the Diocese of Arlington (formerly Br. Ephrem) died November 7, 2013.
R.I.P. Fr. Quintin Heck (S'00) of Milwaukee, died August 30, 2013
R.I.P. Fr. Ron Gillis died June 21, 2013 - a priest of Opus Dei, confessor and spritual direction at the Seminary for nearly 32 years. (Article from Diocese of Arlington
R.I.P. Fr. Brian Fawcett (S'97) from the Diocese of Rapid City, deceased Oct. 9. 2011 after a sudden illness.
R.I.P. Fr. Lou Kennedy (Diocese of Brooklyn), Dean of Men and Director of Pastoral Formation 1989-1994, died on August 13, 2011.
R.I.P. Fr. Mark Tasler (S'90) of the Diocese of Lincoln who died tragically in a car accident on Apr. 6, 2010.
R.I.P. Fr. Robert Zylla O.S.C., Professor of Therology 1971 to 2009, died July 29, 2009. (Obituary from Diocese of Arlington)

The Cradle of Bishops - Congratulations to...

Bishop Michael Jackels (S '81) installed Archbishop of Dubuque (IA) May 30, 2013; ordained the Bishop of Wichita (KS) on April 4, 2005.
Bishop James D. Conley (S '85) Installed as Bishop of the Diocese of Lincoln (NE) on Nov. 20, 2012; ordained May 30, 2008 as auxiliary bishop of Denver.
Bishop William Edward Lori (S' 77) Installed as Archbishop of Baltimore, May 16, 2012; he was Bishop of Bridgeport since 2001.
Bishop Paul Coakley (S '83) appointed Archbishop of Oklahoma City Dec. 16, 2010 (ordained Bishop on Dec. 28, 2004).
Bishop Kevin Rhoades appointed the bishop of the Diocese of Fort Wayne-South Bend (IN) on Oct. 6, 2009 (ordained a Bishop on Dec. 9, 2004).
Bishop Edward Burns (S '83) ordained March 22, 2009 bishop of Juneau (Alaska).
Bishop Barry Knestout (S '89) ordained Dec. 29, 2008, auxiliary bishop of Washington (DC).

My apologies, I used to try to keep a list of graduates and contact info, but it became severely outdated.
Please provide updates of addresses and e-mails:
Sign the Guestbook or Email Fr. Gary Coulter
John Paul II For Dummies
Co-authored by Fr. Jay Toborowsky, Seminary class of 1998.
See his blog: Young Fogeys

Homily Exchange: Want to exchange homily ideas? E-mail Fr. Paul Berghout ('96) vze4f8r6@verizon.net or Fr. Brian P. Simon ('96) stjoseph@westriv.com and they will send you their weekly homilies.
Homily Blog by Fr. Michael Woolley (S'99)

Commemorating Msgr. Ken Roeltgen, Rector, 1988-1997
R.I.P. with our prayers, April 7, 2002
Monsignor Kenneth W. Roeltgen Dies: "A Priest's Priest"
Obituary: Rev. Msgr. Kenneth W. Roeltgen

RIP Fr. Pete A. Giannamore (Wheeling-Charleston - Seminary Class of 1995) died May 13, 2016.
RIP Nov. 22, 2005: Dariusz Zurek (Class of 2008)
RIP Fr. Darin John Didier (Ordained a priest June 4, 2005) died September 6, 2005 after a long battle with cancer. Read a nice Reflection written by Fr. Jack Lombardi



These pages maintained by Fr Gary Coulter, Seminary Class of 1999. Please Contact Me with changes and updates or Sign the Guestbook
Maureen Plan is the director of Alumni Relations at the Mount: 301-447-5362; mplant@msmary.edu